Chapter Four
The Hatchie Run Longrifles Fall Rendezvous
Faulkner Ms
October 23-26, 2008
The club I joined in September is having its annual fall rendezvous and I have made plans to attend every day and camp in a primitive manner.
With the help of several internet friends I have assembled a small primitive camp.
On October 22nd I began packing and getting ready for the upcoming event
Listening to the weather report the prospects of a comfortable Thursday night did not look very promising. None the less I completed packing and went to sleep.
Thursday morning awoke with a calamity related to work. I had a truck down and needed repair. With luck, it was just minor and was repaired before 10a.m. I left on my one hour and fifteen minute drive to Faulkner Ms.
Early afternoon Thursday the 23rd I arrived at the rendezvous site in Faulkner Ms. The weather was cloudy and threatening rain. A few of the club members and vendors were already set up so I walked around and visited a little.
A little later I selected a site and started setting my camp when several folks joined in. These were people I had never met. Setting up my small camp was a breeze because everyone wanted to help. In less than thirty minutes I was ready to have fun.
Here is my modest camp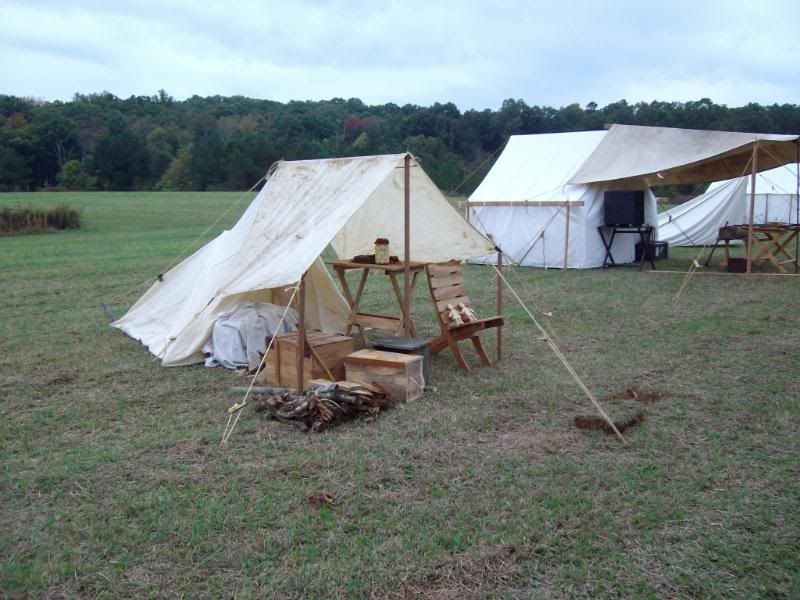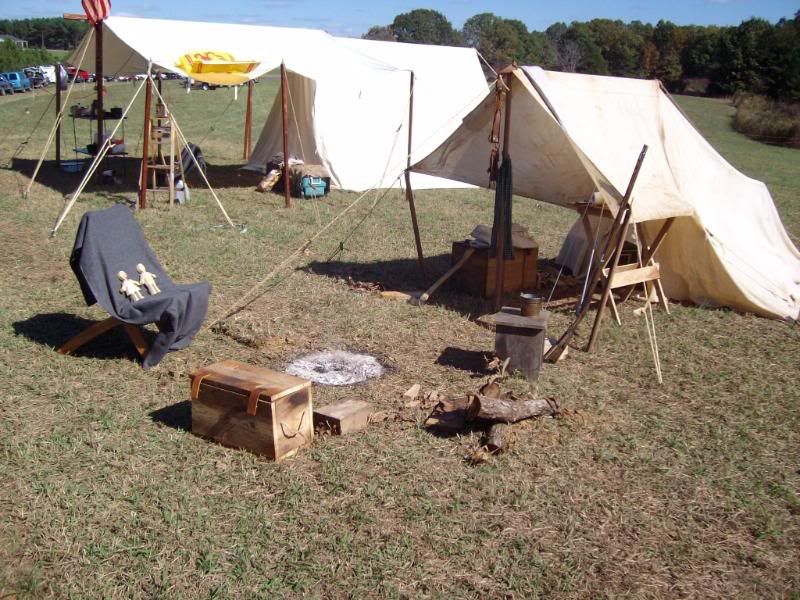 With my camp set I proceeded to meet people and enjoy the remaining daylight. The skies did not look peaceful and a rough night was in store.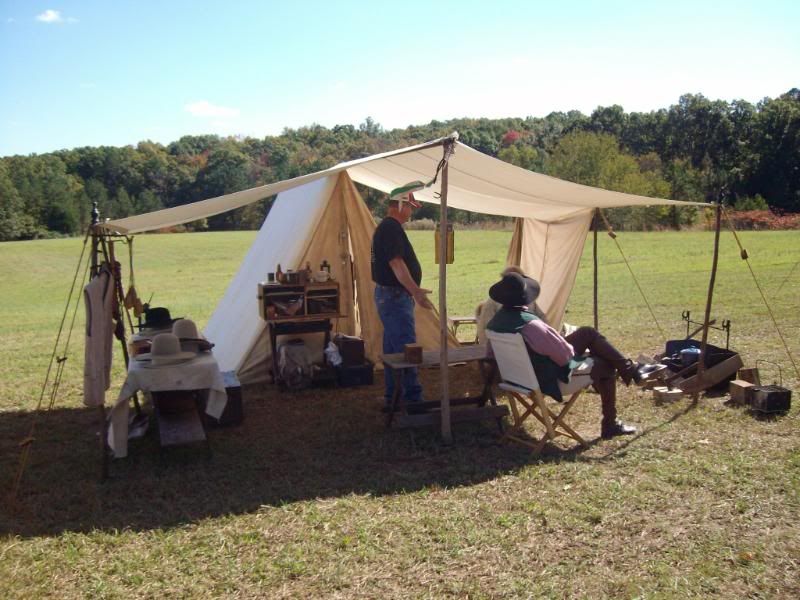 Several others arrived after me and, as everyone helped me, I offered my help setting up their camps. It was a learning experience for me helping set up a wall, a pyramid and a couple of wedges that afternoon. Friendship and comradery were everywhere, everyone wanted to meet the greenhorn.
There were many invitations for supper and drink, of which I accepted several. I was so busy meeting new people, I never made my own campfire.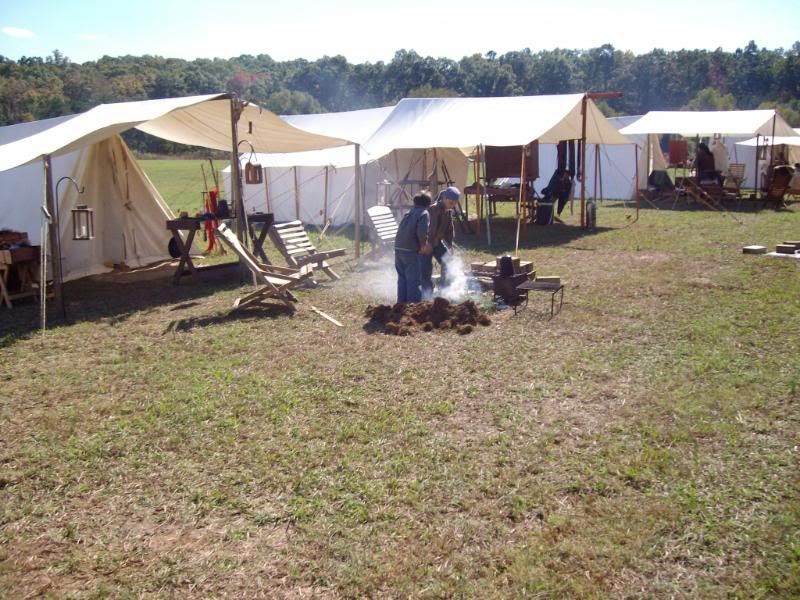 The weather finally rose to the occasion, right at dark, and started a heavy drizzle that gradually increased as the night went along. Somewhere around 10 p.m. I decided it was time to go to sleep. On this occasion I had no problems finding my camp and slipped into a peaceful sleep I have not known in a long time. I awoke around midnight from the sounds of heavy rain, and after surveying my camp was happy I would be dry and comfortable for the rest of the night.
Some people say they like to sleep to the sound of rain on a tin roof, I can say for sure the sound of rain on canvas is also very comforting and drifted back into restful sleep. As usual for me great things soon go foul, I rolled over in my wool blanket around two a.m. and felt something cold and wet. At first I thought the tent was leaking but what actually happened was the water had soaked my ground cloth. Once I figured this out I grabbed the dry covers and went to the pickup where I slept the remainder of the night.
Just after dawn Friday I walked back to camp to survey the damage and drag out the wet bedding. I visited around and drank a couple cups of coffee. Hauling all the wet bedding back to the pickup I spread it out on the hood, cab and bed to dry.
Now more people were arriving and setting camp. Just after noon the range officer opened the range for practice. I got my 54 calibre longrifle and went to the range.
Well the range officer apparently has a twisted sense of humor as the only targets we could shoot at were miniature marshmallows, dum-dum suckers, goldfish crackers and tiny birthday candles.
This would not have been a problem except we had no way of knowing where the balls went if we missed. We shot down into a hollow with no paper to use to adjust our aim.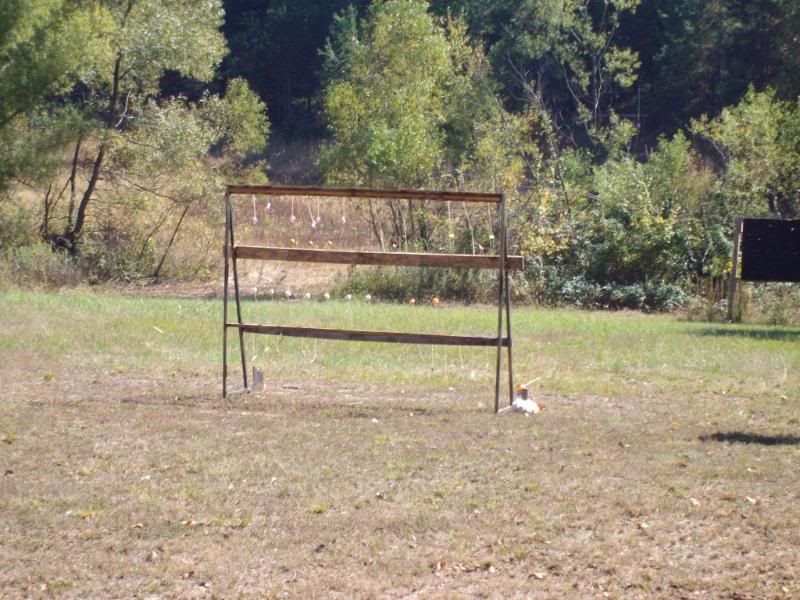 After a few practice shots some of decided to go ahead and start scoring our cards to make the Saturday shoot a little easier and be free to help with other events. During the September shoot I had learned my kit was all wrong and had made several additions and modifications. The novelty shoot was shot with numerous comments about missing targets, hang fires and a dryball. None committed by me. LongShanks was doing me proud having rung the long gong, nailing the swinging gong and shattering a peppermint disc at 20 yards. People were beginning to comment on the "New Guy with the purdy gun". These tiny targets were the source of many misses and a lot of laughs. I took aim at a full sized marshmallow at 25 yards, fired and the marshmallow came flying right at me, landing 10 yards away. Time had to be called while a determination was made on what happened. The target was on a 10" skewer and stuck in a shallow hole in the board, I had dead centered the target causing the skewer to bend and fly out of the hole after the ball had gone through and was scored a hit. The very next shot I made was at an orange candy slice which jumped straight up into the air resulting in another timeout and scoring decision. It was deemed a hit as there was a small half circle cut on the very bottom edge of the candy.
My total score for the novelty shoot was only 6 of 16 targets which turned out to be a very respectful score.